Cause for Concern


Outdoor air is continually being cleansed by nature using the natural processes of weather, rain, wind, lightning, and ultraviolet energy from the sun. Nature's methods of cleaning outdoor air are not naturally present in our indoor air environment. Man-made synthetic building materials, furnishings, and household cleaning products have created a virtual chemical soup in our homes with no natural method of control.

One of the main reasons for heightened public concern about deteriorating indoor air quality is the alarming increase in the number of children and young adults with severe allergies and asthma.

According to the National Center for Health Statistics, 2001 National Health Interview Study, over 7.6 million children (5-17 years) and over 12.7 million young adults (18-44 years) suffer from asthma. The United States Environmental Protection Agency ranked indoor air pollution among the top five environmental dangers to the public. EPA research also concluded that indoor air can be two to five times (and sometimes as much as 100 times!) more polluted than the WORST outside air! Since research indicates Americans spend 90% of their time indoors, it's no wonder that asthma and allergy suffering is on the rise.

Why the Increase?


Why has indoor air quality substantially deteriorated over the last 30-40 years? Because changes in new home construction practices that evolved out of the 1970's energy crisis created "tight homes" that are tightly sealed, heavily insulated and very energy efficient. While these practices help to conserve energy, they also "lock in" allergenic particles, infectious agents, and toxic compounds which are bad for the health and well being of our families.

Allergenic particles such as pollen, dust, mold spores, fungi spores, tobacco smoke, dust mite feces, pet hair and pet dander all contribute to poor indoor air quality. Additionally, common household furnishings such as draperies, carpeting, wallpaper, paints, stains, and furniture may continue to "off-gas" potentially toxic fumes for a long time after application or installation. Heating and air conditioning ducts which are dark, damp and rich in "nutrients" provide an excellent breeding ground for mold, fungi, and dust mites which can spread rapidly when these ducts are in use to heat or cool the home. Poor ventilation and dirty filters are also major contributors to unhealthy contaminates in the home.

What Can be Done?


There are many products on the market today that work with your existing home comfort system to provide unparalleled filtration and cleansing. There are basically three categories of infectious agents that need to be addressed by your IAQ (indoor air quality) system:
Allergens and Particulates that can cause health effects such as nose and throat irritation, runny nose, congestion, and asthma flares. This is controlled by high quality filtration.
Infectious Agents that can cause bacterial and viral infections. This is controlled by a UVC light.
Toxic Compounds that include formaldehyde, carbon monoxide, smoke, and mold mycotoxins that can create such symptoms as memory lapse, depression, headaches, and fatigue. This is controlled by a UVV light.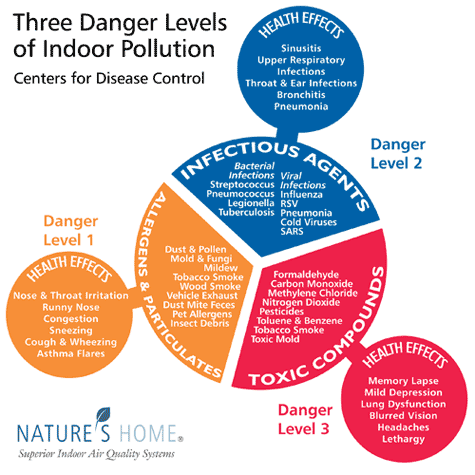 We have Comfort Advisors standing by that would be happy to visit your home for a free IAQ analysis. They can answer any of your questions about what would be best for you and what options on the market today would best fit your needs. Call us today at 503-655-0556. You can also get more information on Indoor Air Quality and browse through some excellent products at our vendor partner Nature's Home. Visit their website at www.4natureshomes.com.
"We were referred to your company by Patty Black of Windermere Realty for service and a diagnostic check. When your technician found some problems with the units he said that it would be more advantageous to look at replacing the units rather than repairing because of their age. We set up an appointment to have Schuyler come out and present our options. Schuyler's presentation was informative and he really presented our options well. We upgraded our 30 year old system to a new, high-efficient one."
Landon & Judith, West Linn, OR
"I decided to use your company because our long time friend Mark works for you and trust your company's work. Schuyler was very personable and patient. He answered all of my questions and helped me think the process thru by going over and writing down each option for comparison. This really helped. The response from the phone call I made to sign up was very impressive. I talked to two people and both were very helpful and concerned, even in the evening hours."
Diana, Gresham, OR
"Schuyler's visit with us was outstanding. He gave us all the information we needed to make the right choice. It was a perfect balance of business with out being pushy. Since we are doing work in our elderly mom's home it was nice to know that everyone in your company is safe. This really put us at ease."
Micah & Shauna, Portland, OR
"I decided to go with 72 Degrees because your representative was very knowledgeable and honest. He impressed me from word one. I had previous estimates for the cooling system, so I knew what questions to ask him. I believe his estimate was fair and that your company will stand behind your work."
Helen, Lake Oswego, OR
"I decided to invest in a new home comfort system with 72 Degrees because we had a good referral from our neighbor, you had an article in the West Linn Tidings, and you are a local contractor that I have easy access to."
Tom, West Linn, OR